When StyleArc announced that they were going to start selling PDF patterns through Etsy I was genuinely excited. I had been so tempted on many occasions by their patterns but put off by the combination of single sized patterns, long distance mail costs and the lack of finished garment examples. At the time I concluded that my bank balance would quickly empty out into StyleArc's coffers as they release new patterns every month.
In fact, however, although I've picked up two of my most wanted patterns from their back list as the company gradually digitizes their pattern collection, this year's offerings so far have mostly left me cold. StyleArc, like Burda, seems to be highly trend conscious and therefore, also like Burda, if you don't like the current trends then you're just not going to be into the patterns. The result of this is that although I am waiting for one more historical pattern release (the StyleArc Issy, which I desperately want) I've really not found myself yearning after any of the new StyleArc releases particularly... until last month, when t
he Estelle ponte jacket
came out.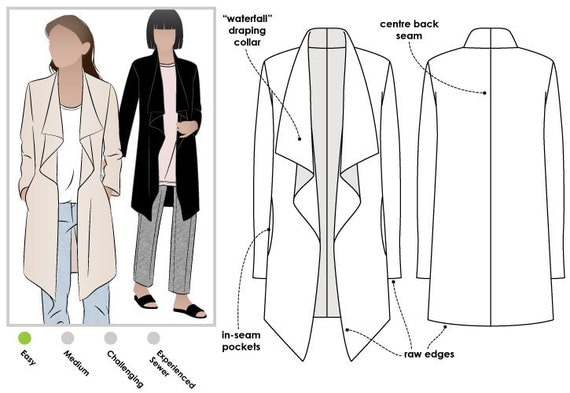 StyleArc Estelle
This actually shows the power of the finished garment photos for me. I feel like if I made the effort I could almost certainly find a similar magazine pattern -- in fact, I know there is at least one in Ottobre and several variations on the waterfall cardigan theme in my Burda collection. However, as soon as I saw the modelled white version on the StyleArc newsletter, I wanted THIS pattern, immediately.
This is my first actual attempt to sew from a StyleArc pattern. I bought the package with size 10/12/14, and chose my base size (10) from upper bust measurements. Assembling the PDF was straightforward enough -- there are plenty of easy to follow markings -- but as usual before I got started I behaved like it was a task of monumental proportions. PDF assembly is easily the worst part of sewing from digital patterns, although it's never quite as bad as I build it up to in my mind!
StyleArc Estelle in blue pinstripe ponte
I am so used to blending sizes when I'm working in knit fabric rather than doing "proper" adjustments that I bitched to myself the entire time I was preparing a straight size 10 pattern, since I know I am very far from a straight size 10. I am definitely not willing to print out 2-3 versions of a single pattern, stick them all together and then compare them, but it would have been SO MUCH easier if I could have done.
Luckily, I have become pretty efficient at figuring out how a knit garment compares to my knit block so once I had the size 10 assembled I quickly pinpointed my main adjustments: a large-ish bicep adjustment and a 5cm FBA. I rotated the side dart the FBA produced out of the side seam and into the hem, and then redrew the side-seam to eliminate the tent-like flare this produces. The end result of that manoeuvre is a front piece that is basically a size 10 until the bust point and then blends to a size 14 from the bust point down. If I made it again I would probably do a small square shoulder adjustment. This is my most common adjustment that I make to patterns but the the nature of this particular pattern, with the big shawl collar etc, made it difficult for me to assess how far off StyleArc's shoulder shape was from my body shape, so I left it as is.
The fabric I chose is a lightweight blue ponte with a faint ultra-skinny stripe. It was inexpensive and I am not convinced it'll have great longevity -- cheap ponte bobbles and bags out so quickly! -- but it has great drape.
As far as sewing goes, StyleArc's instructions are brief and to the point, with some illustrations for key parts of the construction. They were very easy to follow, all the notches and seams matched beautifully and overall, it was an extremely pleasant experience to go from pattern to finished garment. I sewed the whole thing on my overlocker, ignored a couple of suggestions for seam finishing, left the hems and edges raw as suggested in the pattern (not my usual choice, but I genuinely think it looks good with this particular very stable ponte that I used) and, in fact, sewed the whole thing in an under an hour including futzing with a tension problem on my overlocker.
I don't think this photographed well at all (but this might be just that I am struggling with taking photos of myself when my body is very drastically showing the toll of my most recent bout of illness). I actually LOVE how it looks on, and the first time I tried it on I instantly though about making it again in another piece of ponte that I've been hoarding for a while. I like the shape of the angled hem and the way the waterfall section falls over my (larger than average) bust. I could live without the many and varied wrinkles through the shoulder, but that's mainly the square shoulder problem -- it's amazing what even a tiny adjustment will do for that.
In conclusion: This was a really fast project and I LOVE the outcome. It was also an interesting introduction to actually making up a StyleArc pattern for me. There was certainly nothing about the experience, other than my irritation that I couldn't do a straightforward size blend, to put me off buying or making more StyleArc patterns (if and when the trends that they follow swing around to things that are more my style, of course!)